AUCTION!
This auction is now closed
GRAB A BARGAIN AND BID ON OUR FABULOUS HOTEL VOUCHER:
8 NIGHTS IN ONE OF THE TOP RESORTS IN VIETNAM – SIX SENSES CON DAO

The voucher carries a value of 48,000 SEK or 6000 USD
CURRENTLY THE HIGHEST BIDDER:
SASHA MITIC - 22,000 SEK - WINNER!
Elisabeth Storch & Thomas Rygell - 19,000 SEK
Hellen Madden from UK - 17,000 SEK
Elisabeth Storch - 15,000 SEK
Titti Kaiser - 11,000 SEK
Anders Lundin - 10,000 SEK

Magnus Bjellefors - 1,000 USD (8,100SEK)

We will publish all latest bids on our website as they come in.
Place a bid either by sending us an email to this address: info@gordintravel.com
or give us a call on: Tel: +46 (8) 1205 9831, Helene Gordin: +46 (0) 73-960 00 03, Veronica Backman:+ 46 (0) 70 727 59 59

The voucher you are bidding for entitles you to stay at Six Senses Con Dao for:
Eight nights accommodation including breakfast and transfer for 2 persons in an Ocean Front Delux Villa.
TERMS & CONDITIONS
Travel period valid until 7th July 2015 with the following blackout period
- 17-20th April 2015
- 28 April -2nd May 2015
You can combine this voucher with extra nights to prolong stay
Reservation confirmation is subject to room availability with advance reservation only
This voucher can not be exchanged for cash and is not transferable
Flights and other arrangements in conjunction with this trip have to be booked by Gordin Travel
Flights are not included

Why not make you trip longer and combine it with a few nights in Saigon, explore the Cu Chi Tunnels and the other sites from the history of warn-torn Vietnam. Stay at the wonderful Renaissance Riverside Hotel Saigon with its panoramic view of the Saigon River. The possibilities are endless!
For further information regarding the hotel and this trip go to our Wordpress site by clicking: AUCTION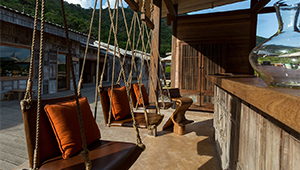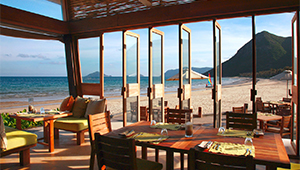 ABOUT SIX SENSES CON DAO
Set on an island in the untouched archipelago 45min flight from Saigon this hotel is pure heaven. You will never want to leave this place with your own villa and pool!
Further to distract you are two excellent restaurants, the award-winning spa, and the white private beach. With commitment to sustainability,
this modern hotel has been recognized as one of the world's top eco lodges by National Geographic Traveler.
For further information: http://www.sixsenses.com/resorts/con-dao/destination
LOCATION
Set on its own private stretch of beach, it has views of evergreen forests and the other jungle-clad islands dotting the East Vietnamese Sea.
The closest airport is tiny Con Dao, 5km away (a 20-minute ride to Six Senses, in the hotel's car). These domestic flights can be booked and arranged by us.
Saigon is the closest international airport; it's a 45-minute flight from here to Con Dao